| | |
| --- | --- |
| Target Deployment Date: | Wednesday, July 12, 2023 |
| Deployment Window: | 9-10PM ET |
Amwell is excited to release Carepoint app version 3.1.20 to all clients for the C500, C250, and TV Kit 100. We have migrated to our new Converge cloud infrastructure which this update enables. We have been slowly rolling this out to clients to ensure quality. This new version is a necessary technology refresh and a path to aligning the Amwell platforms.
If your current App version is < 2.3.24, then you get all of the features listed below
If your current App version is > 3.0.2, then you already have these features and will notice only minor UI improvements and bug fixes.
In order to take advantage of these changes, please note the following requirements:
You can refer to the updating procedure as needed: https://support.avizia.com/hc/en-us/articles/4418947212180
Please speak with your account manager if you have questions about or need information about the Amwell Converge platform.
___________________________
Added automated application restart
The application on the Carepoint carts will automatically restart every day between 3 AM and 5 AM. If the cart is busy (in the waiting room, on an intake form, or in a call) the application restart will be delayed until the cart is out of the busy state. The application restart and the delays, if any, will be logged to Fleet monitoring. The entire process should take less than 10 seconds and will help resolve cache-related issues on the Carepoints.
_______________
Enable local PTZ controls for the embedded C500 4x ePTZ camera
End users at the cart will now be able to maneuver the embedded C500 4x ePTZ camera locally — this will allow local adjustment of the camera position to show the embedded camera to the other call participants.
User can PAN and TILT the camera position with the up/down/left/right arrow keys

User can use the ZOOM slider to zoom in and out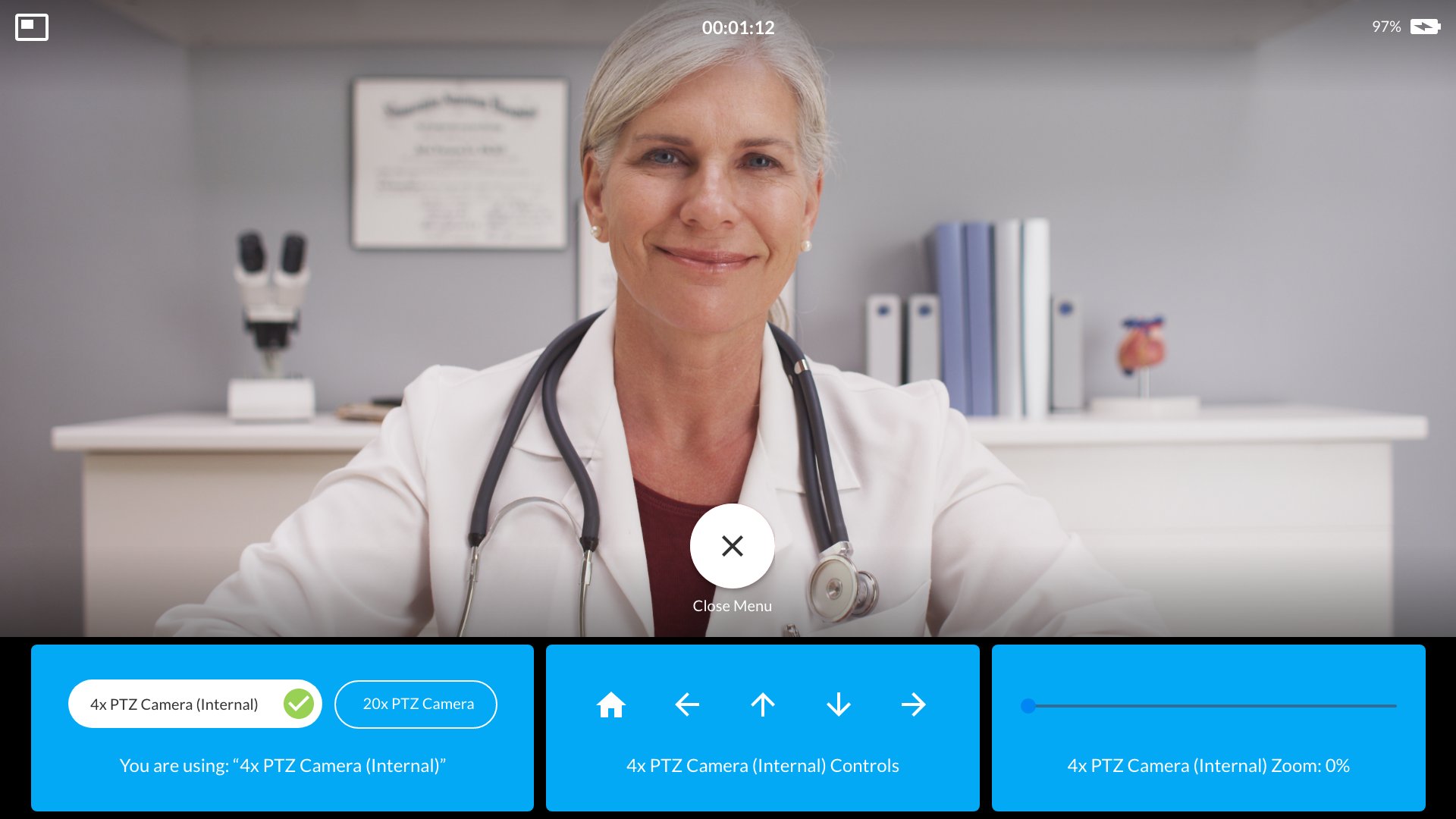 _______________
Cart users can now revert OS and App software versions when necessary
Should there be a need to revert a previous OS or App installation due to an unrecoverable error, users can tap the More icon (three dots) in the upper-right corner of the error screen and navigate to "Advanced Settings" to view the "Revert Software" dialog box. Select the appropriate software to revert to and touch the red "Revert Software" button to initiate.
NOTE: This particular method of reverting the device software will preserve the device settings (activation, network configurations, etc.), unlike the previous reversion method available after performing a factory default.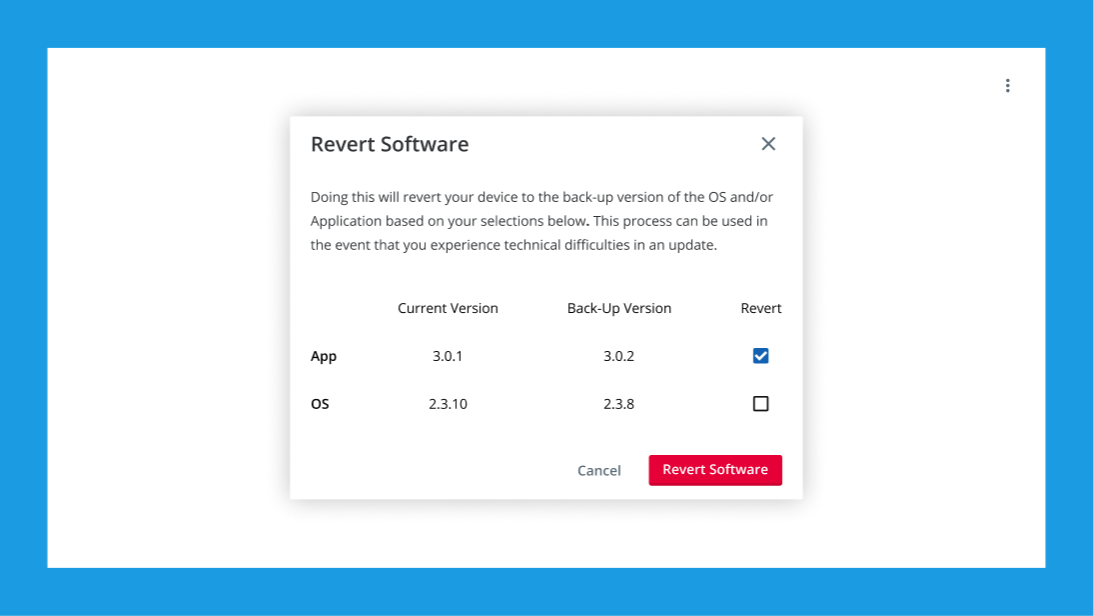 _______________
Reverting the Device Software Locally Will Change Carepoint Upgrade Behavior to "Advanced-Manual"
This enhancement will enable automatic configuration adjustment of the device's Upgrade Behavior to "Advanced - Manual" for a Carepoint that has completed an OS or App rollback. This will stop any previously downloaded versions from being re-downloaded should a Carepoint user revert the software for any issues that could arise.
NOTE: This is a Web-only update — no further action is required to receive the update.
Should a Carepoint's software be reverted, please work with Amwell Support in the future to begin taking automatic updates again.
_______________
Added ability to navigate to Network Settings page when seeing Amwell Service Not Reachable screen
We added an option to the Amwell Service Not Reachable screen for a user to be able to navigate to the Network Settings page and choose a different network in the instance where the cart is connected to a network without access to the internet.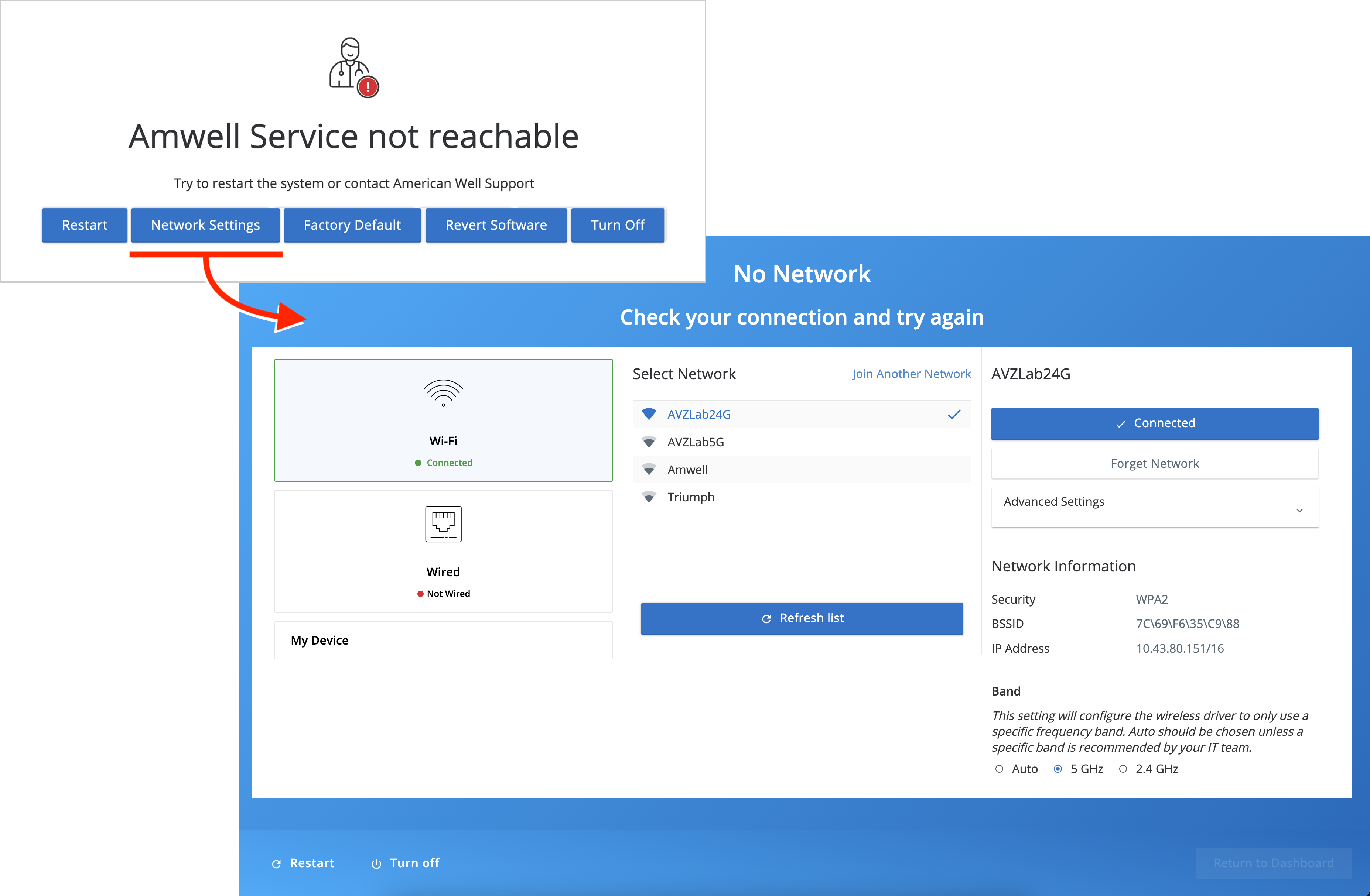 _______________
Added C500 Option for auto power-on when device is plugged in
We have added the ability for auto power-on to be configurable to the Amwell C500 Carepoint. Please work with Support to enable if you'd like this feature turned on.
_______________
Increase the frequency and volume of critical battery alerts on C250 and C500
This enhancement increases the volume and frequency of low battery alerts to ensure that clinicians and IT are aware of when they need to plug a Carepoint into power:
Low battery alert (30%)

Critical battery alert (10%)

Critical battery alert persists until dismissed or power is connected

When alert is dismissed cart volume returns to the set volume
The goal of this enhancement is to help ensure that Carepoints are available for use when needed for patient care.
_______________
Clarifying text and minor UI adjustments to the Leave Case Open/Waiting Room workflow
We have made minor text changes and small visual changes for the Carepoint Waiting Room and snackbar notifications. The following changes are made to the Waiting Room workflow:
Rectangular "Cancel" button changes to an oval-shaped "Cancel Case" button

Rectangular "Leave Case Open" button changes to an oval-shaped "Exit Waiting Room" button

Exit Waiting Room modal now reads: " Are you sure you want to exit? Exiting will keep the case open in the clinical workflow, close the waiting room, and allow you to create another case."

"Cancel" option changed to oval " Back to Waiting Room" button and spans the modal window

Red rectangular "Leave Case Open" button changed to blue oval-shaped "Exit Waiting Room" button
The following changes have been made to the onscreen snackbar notifications:
"Case [case #] was archived." This is seen when the cart user cancels a case while in the Waiting Room.
"Leave Case Open" text has been updated to: "You successfully created Case [case #] and the notifications have been routed to the appropriate providers. Please navigate to the Clinical Portal if you'd like to review."

All snackbar notifications now appear in the upper-right corner of the Carepoint screen (Case Archived, Case Created, network-related messages, Rejoin (Converge))

All snackbar notifications persist until acknowledged.
_______________
Overall size reduction for icons and headers
To help facilitate access to more onscreen content and reduce excess scrolling we have reduced the size of the onscreen icons and page headers.

_______________
Refresh UI icons with updated fonts
We are continuing to address the look and feel across the platform to ensure site uniformity with colors, fonts, and various other design elements.