ATTENTION: The former Avizia v10 is now called the American Well Clinical Module.
| | |
| --- | --- |
|  Deployment date: |  Wednesday, January 16, 2019 |
|  Deployment window: |  3-6PM ET |
NOTABLE FEATURES/FIXES:
✓ Video readiness check for Clinical Module
✓ Other improvements
---
Video readiness check for Clinical Module
We have integrated the option for clinical users to check video and audio connections before placing a call. This will ensure that you call will go smoothly without any technical issues, such as the camera or audio not working.
All clinical users should see the 'Video Readiness Test Connection' link near the Join Video button. When you press the Test Connection link, you will be able to walk through the wizard to check the following:
Camera is working

Speaker is working

Mic is working

Network connection is available and good quality
NOTE: You may need to ALLOW your browser to access your computer's video camera and microphone before proceeding with the wizard.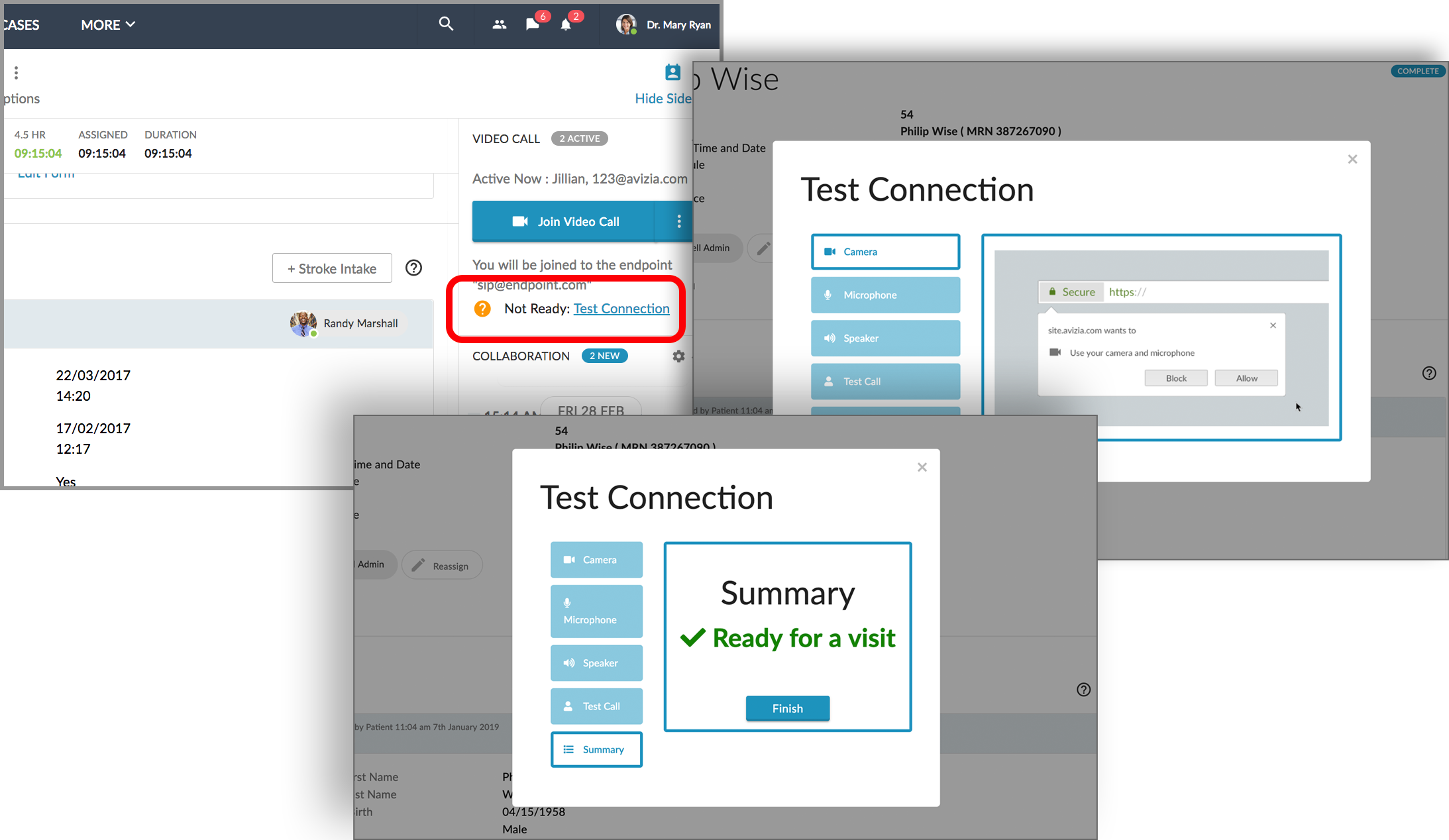 If your network connection quality is poor, you will see,
"The internet connection is poor and you may encounter issues with your video call. You can proceed with the video call or be invited as an audio participant."
___
Other improvements
Fixed cloud Imaging (Ambra) where some study timestamps were showing the wrong day.

Expanded logging of SAML single sign on to help with support and testing. This also includes the foundation of some new functionality to automatically provision users into different roles based on group membership within Active Directory. If you are interested in this expanded functionality, please reach out to your American Well account manager.

Made the message read receipts easier to view on web.

Changed the message conversation naming convention to align the web and mobile platforms.

Improved viewability of the timestamp and options (gear icon) for in-line message attachments.

Changed 'Leave Group' to 'Leave Conversation'. The option is available in the info panel on the right side of the screen

'Group' and 'Room' have been changed to 'Conversation' in the Messages module

Added the option to delete a single sent message from the conversation. The message will be deleted from the conversation for the user as well as any other participants in that conversation.

New option to 'Hide Conversation' that will allow you to remove a conversation from the left sidebar to help declutter the list of message threads. To return to the conversation:

go to the "new message" option and select the user you were messaging with

when you receive a new message from that user will be able to see the history of their previous messages as well as add a new message.

for group conversations, type the names of a few of the people involved and the app will begin to autofill and offer previous conversations with the name of the conversation. You will not be able to open multiple conversations with the same group.
---