| | |
| --- | --- |
| Deployment date: | Sunday, February 16, 2020 |
| Deployment window: | 3 – 6PM ET |
NOTABLE FEATURES IN THIS RELEASE:
✓ Case creation filters for Clinical Modules, Facilities, and Endpoints
✓ Improved Time Tracking for the first call started and ended
✓ Quick edit the Callback Device in Case Details
✓ Dial telephone extensions when adding a phone participant
✓ NIH Stroke Scale images available to share in a video call
✓ New Thrombectomy and Hemorrhagic stroke evaluation forms
✓ Updated dialog boxes in Enterprise Admin site
---
In This Release
Case creation filters for Clinical Modules, Facilities, and Endpoints
When there are more than 12 of each of either Clinical Modules, Facility locations, or Endpoints, a Search Bar will be available for you to perform a search for your desired item during case creation.
Note that the Search Bar will ONLY appear when there are more than 12 items listed.
CLINICAL MODULE
When selecting a Clinical Module at the start of a new case workflow, if there are more than 12 clinical modules listed, a Search Bar will appear so you can filter through the list to identify your selection quickly.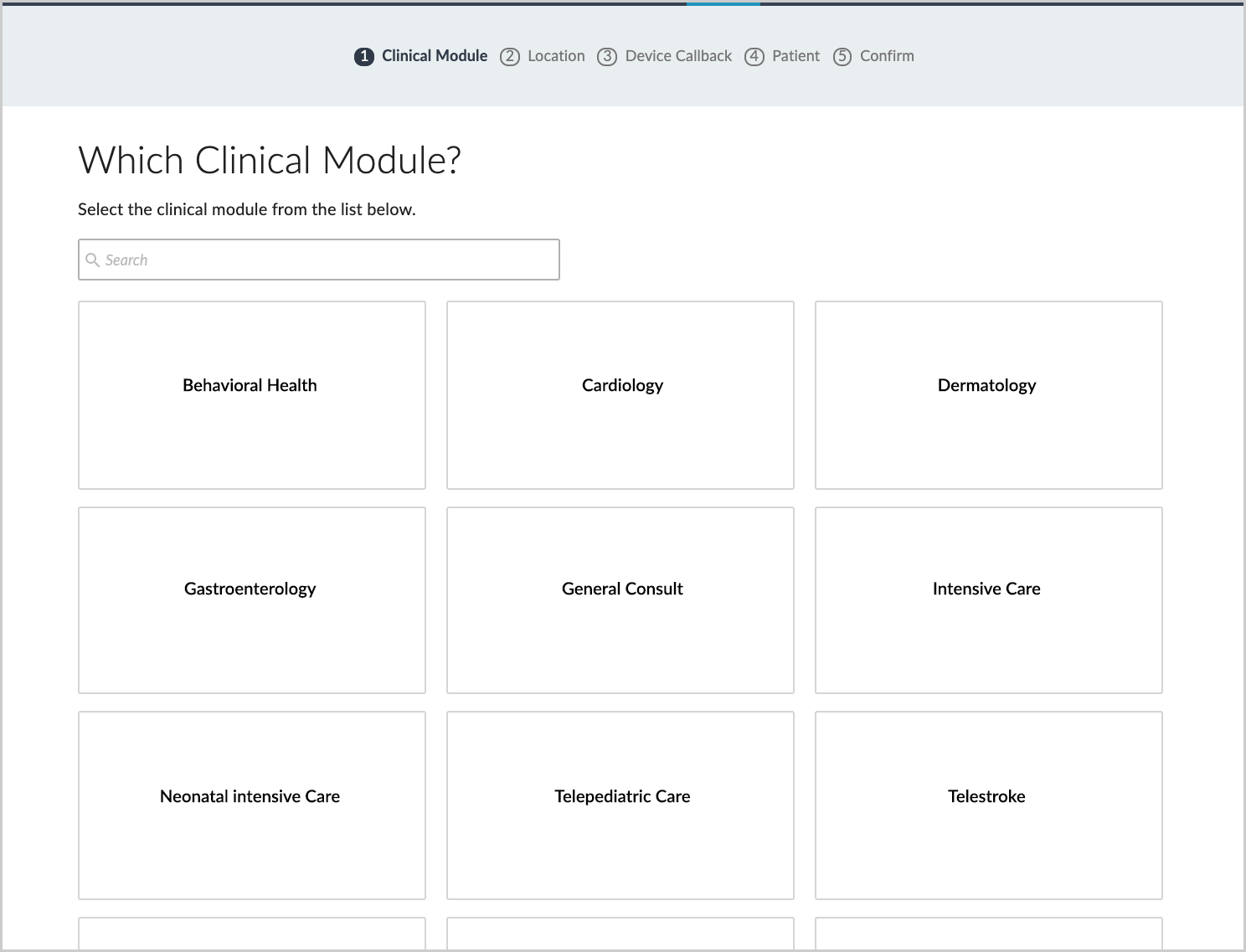 PATIENT LOCATION
When selecting the location of the patient, if there are more than 12 facilities listed, a Search Bar will appear so you can filter through the list to identify your selection quickly.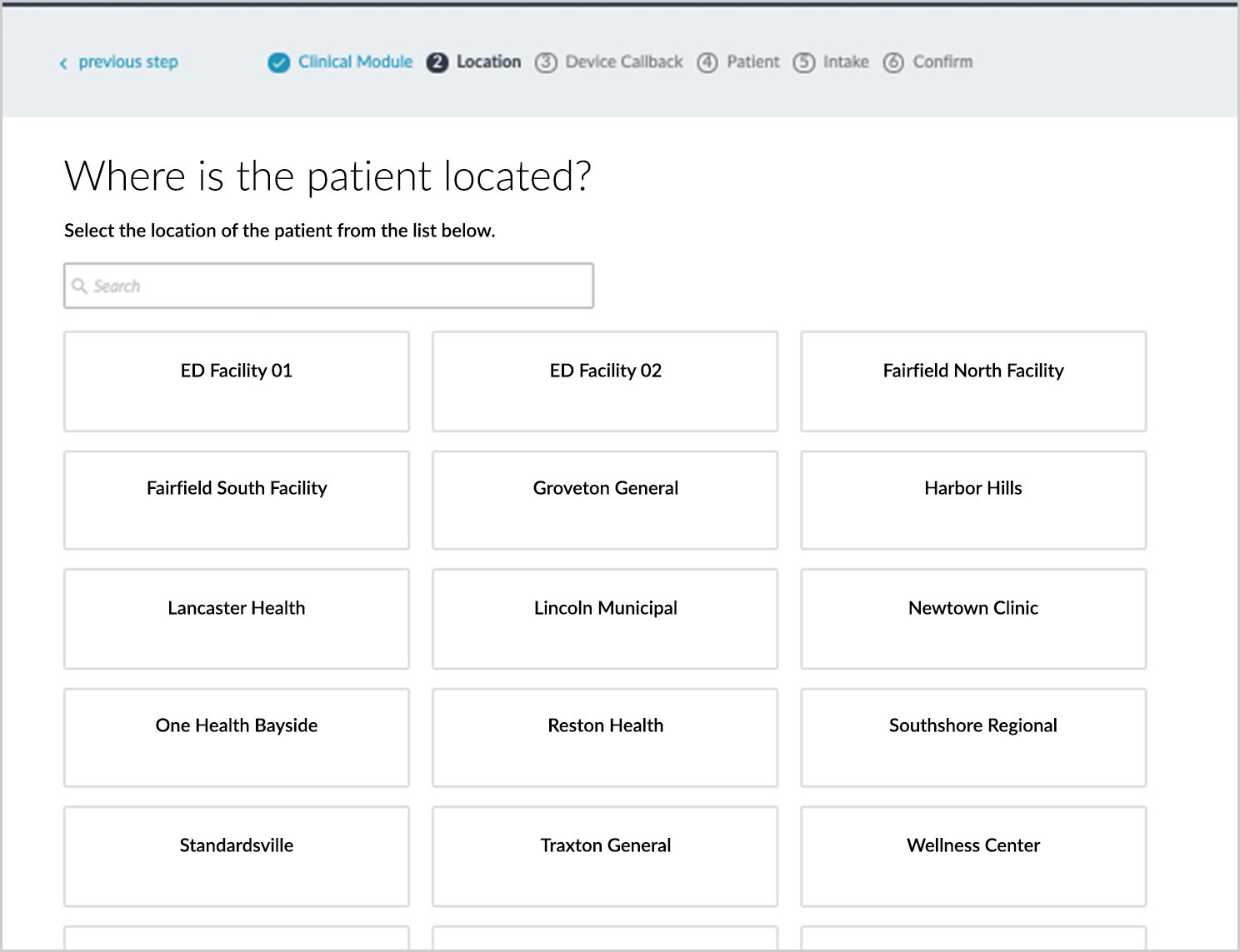 DEVICE CALLBACK
When selecting a callback device for the provider to dial into, if there are more than 12 devices listed, a Search Bar will appear so you can filter through the list to identify your selection quickly.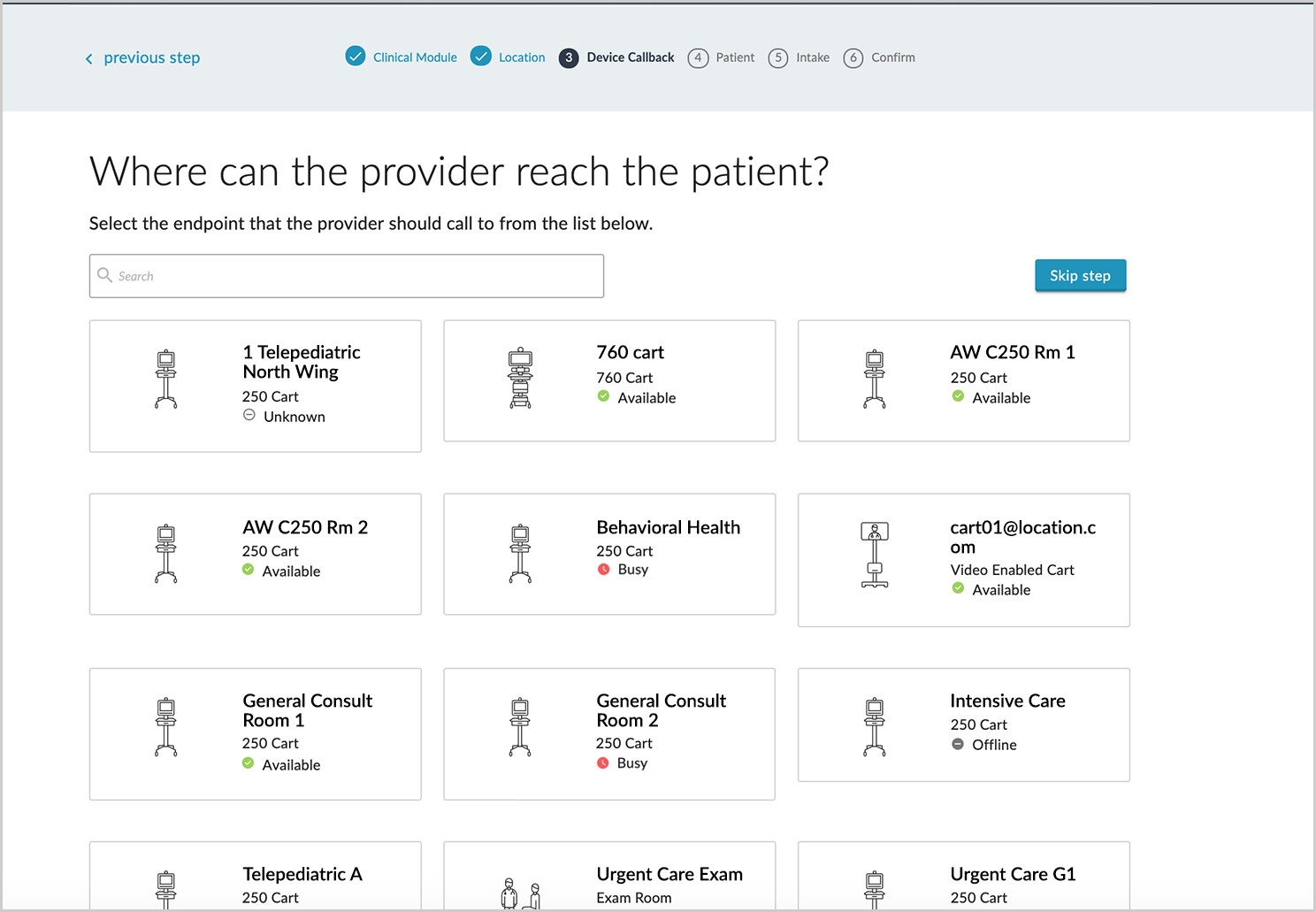 _____
Improved Time Tracking for the first call started and ended
We have improved the time tracker form to automatically set the first time someone joins the video call for a case. When the first person leaves the video call, this will also set the end time for the '1st Video' time.

This should help to capture SLA and 'time to video' metrics. If for whatever reason the provider was unable to connect to the video on the first try, these times can be easily edited in the time tracker to have realistic reporting data.
Please reach out to your account manager if you do not have the Time Tracker form enabled for your use cases. This form can also be used to record other metrics such as when the cart was ready, EMS dispatch time, and imaging availability.
_____
Quick edit the Callback Device in Case Details
You are now able to quickly change the Callback Device from the Case Details page should the device associated with the case is in use or is unavailable.
From the Summary section of the Case Details page, click the Edit icon in the Callback device line and select the device you wish to use. Click Save to return to the Case Details page.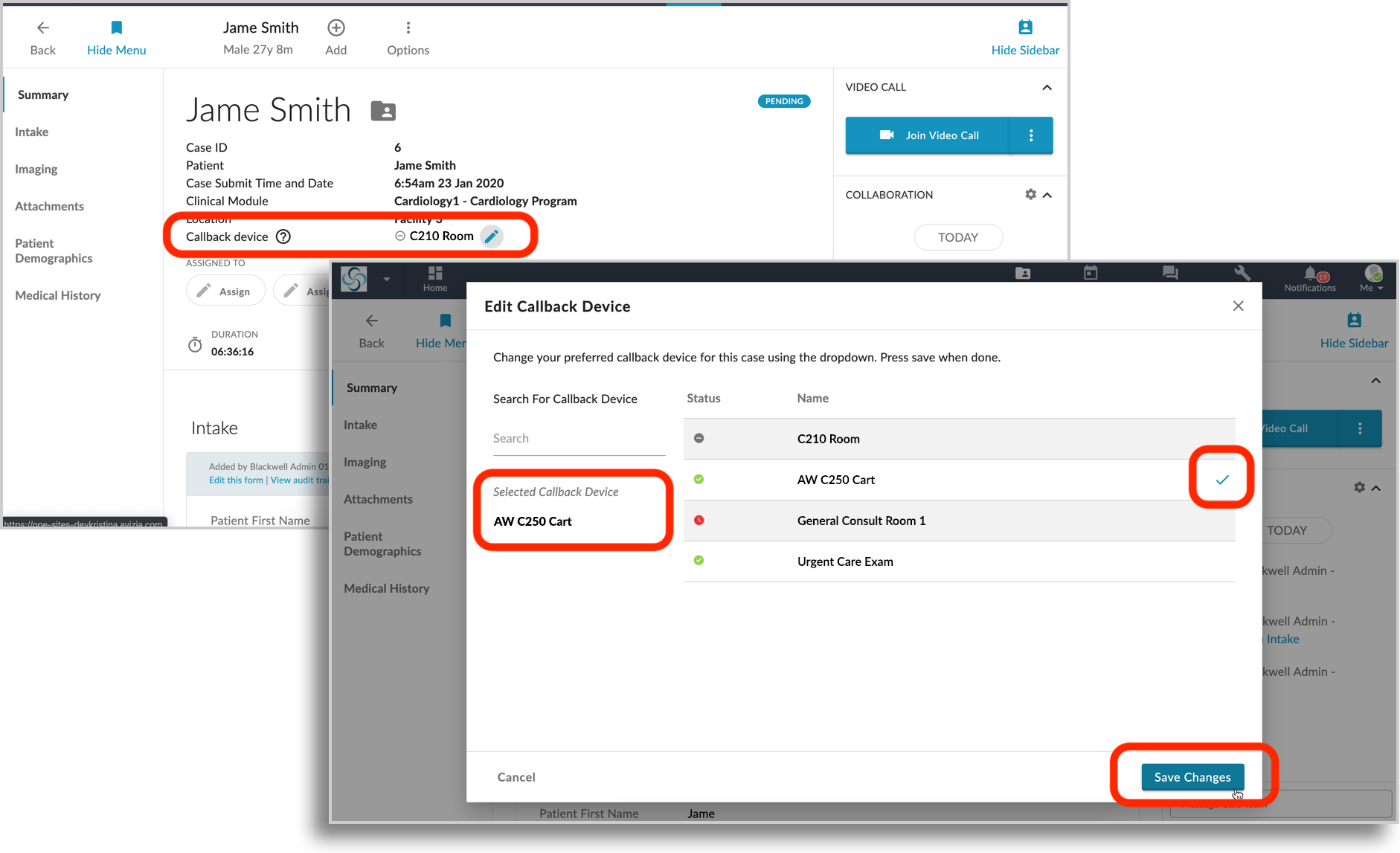 _____
Dial telephone extensions when adding a phone participant
We have added a prompt for you to enter a phone extension after dialing a participant telephone number to join your call. This enables participants with extensions (such as interpreters, providers, family members in a work setting) to join the call.
When a telephone call has connected and joined but requires further number entries, press

(Number Pad icon) to pull up a dial pad. You will also see the number you had just dialed slide in from the left. Enter the appropriate numbers accordingly and proceed with your call.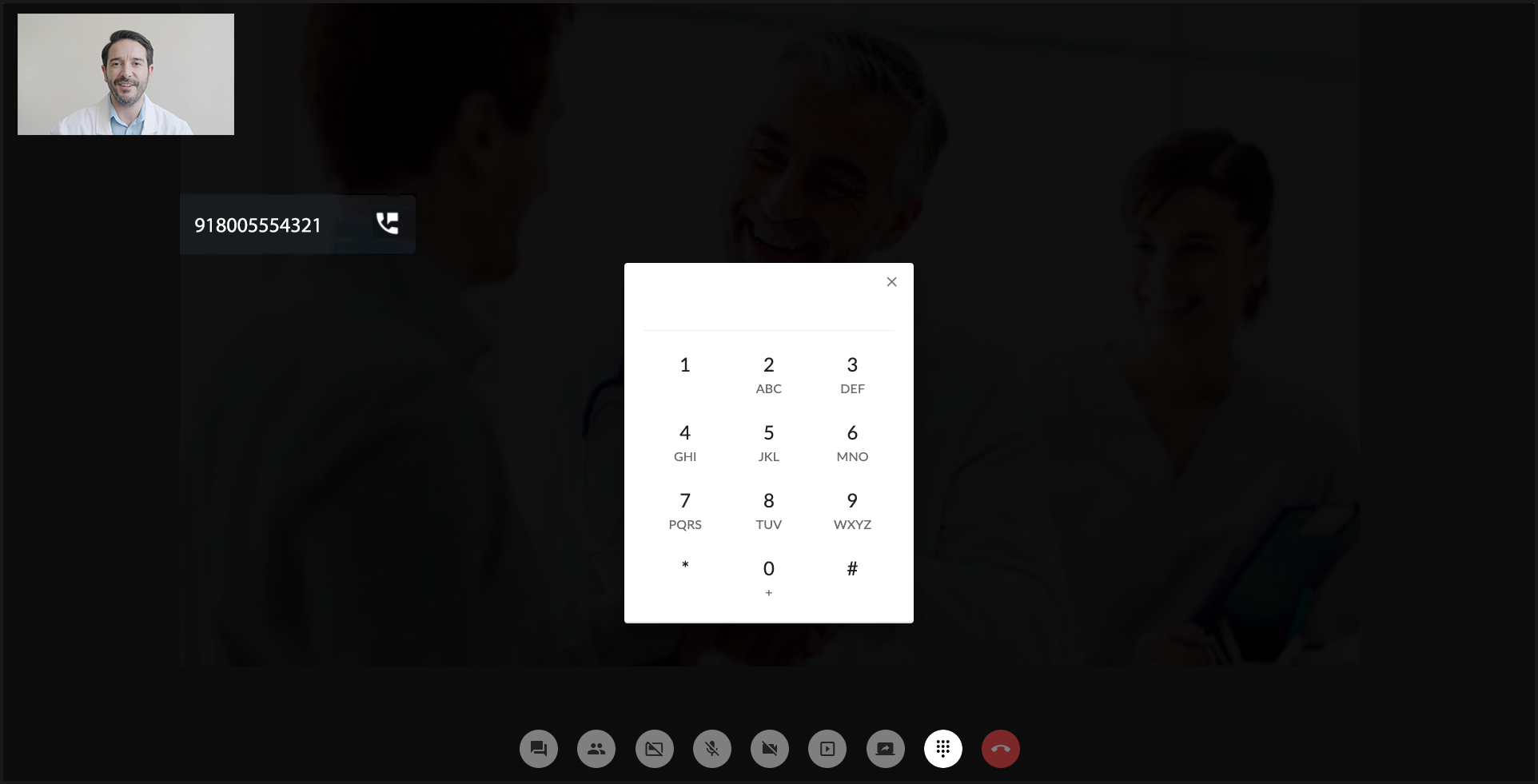 _____
NIH Stroke Scale images available to share in a video call
To increase speed to stroke assessment, we have embedded the NIH Stroke Scale images as part of the workflow in a video call. Pressing

(NIHSS button) will present a series of images that can be scrolled through during patient evaluation. What the patient will see on the far end is their screen with the evaluation images.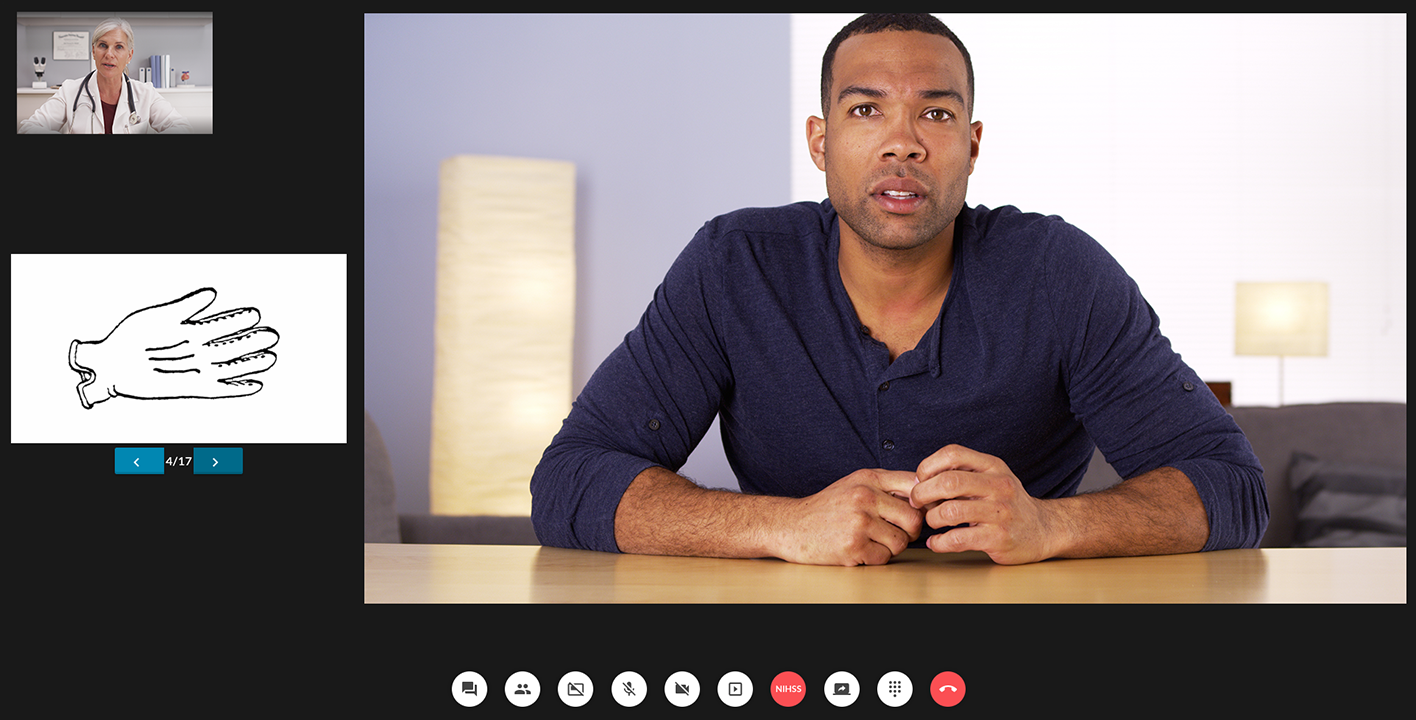 _____
New Thrombectomy and Hemorrhagic stroke evaluation forms
When enabled for your stroke workflow, you will be able to add a thrombectomy or hemorrhagic evaluation form for your stroke patients.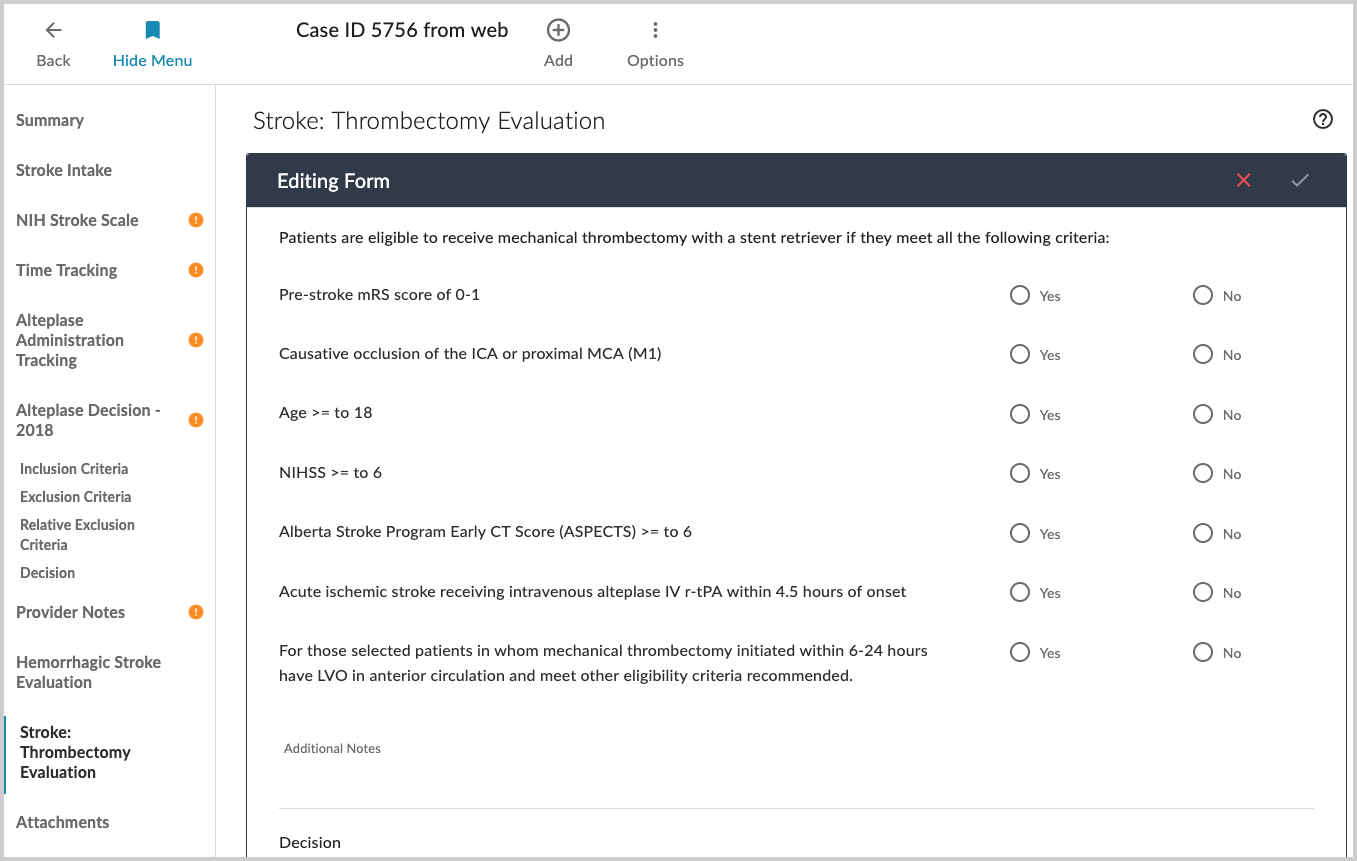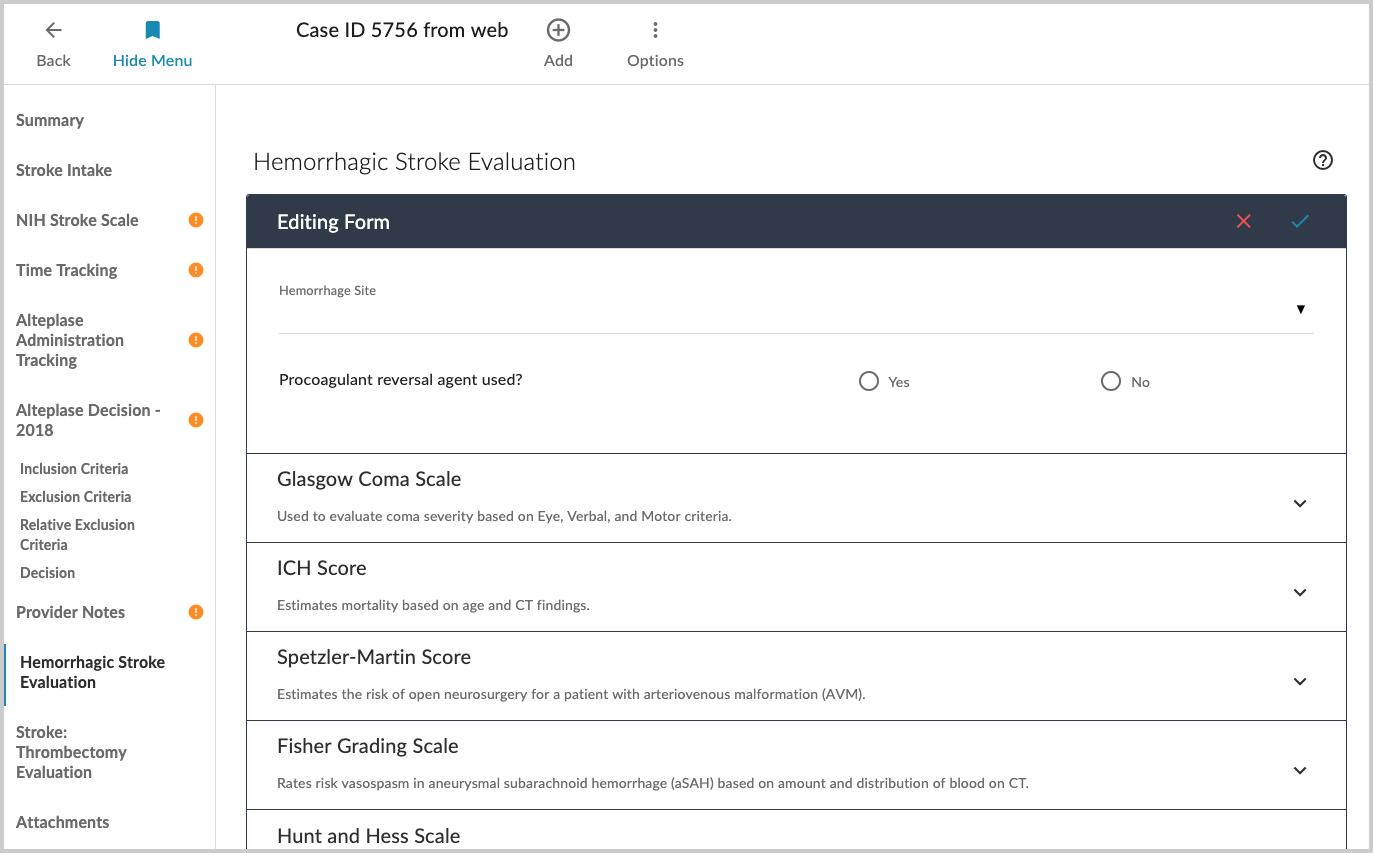 _____
Updated dialog boxes in Enterprise Admin site
As part of our ongoing effort to improve and align the American Well style and brand, you may notice some of our dialog boxes and pop-ups presented with a new style. No functionality has changed, just the look and feel have been modified.
---