| | | |
| --- | --- | --- |
| Mobile App | Version/Platform | Submit to App Stores |
| AW Touchpoint | v21.02 for iOS/Android | Thursday, March 4, 2021 |
NOTABLE FEATURES/CHANGES:
TOUCHPOINT

Changed the layout for "Add Participants" screen
Video Layout grid views
Touchpoint Connect: Filter endpoint by facility

TOUCHPOINT TABLET

Support for Android (Samsung) tablets
Request for services: Stroke Intake form
NOTE: You can view any maintenance and minor Touchpoint app update releases (e.g. v20.04.01) on the Amwell Hospital Web & Mobile Updates page.
---
TOUCHPOINT
_________
CHANGED THE LAYOUT FOR "ADD PARTICIPANTS" SCREEN
We have combined the "Add" and "Current" tabs to one screen. The "Current" tab is renamed to "Current Participants" and is listed below the "Invite" section.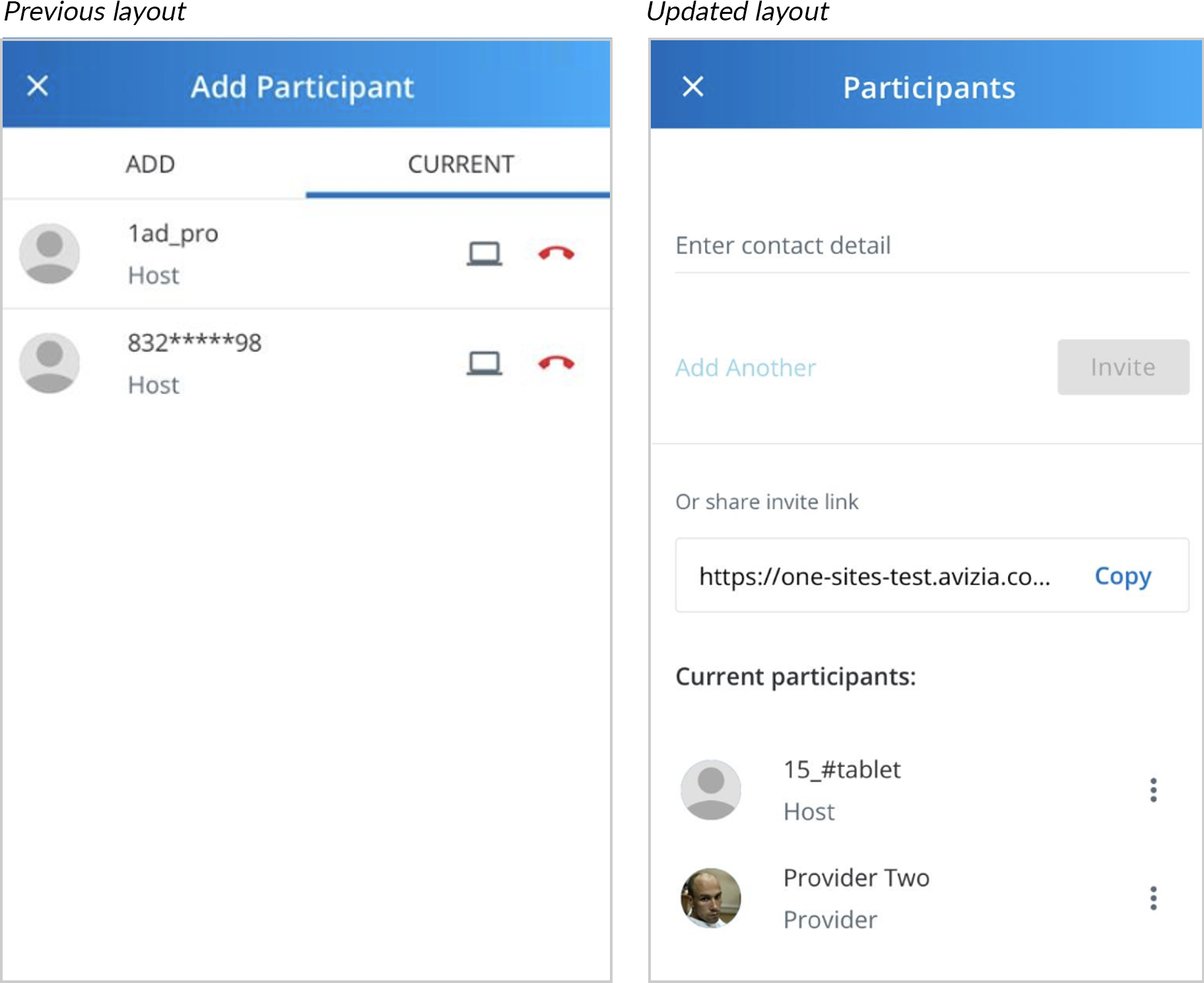 _________
VIDEO LAYOUT GRID VIEWS
There are new video layout tools available for you when you are in a call. Tapping the grid icon will provide three layout options:
1 + 7 : 1 main and 7 on the bottom

4 + 0 : 4 equal boxes for 4 participants

2 + 21 : 2 main and up to 21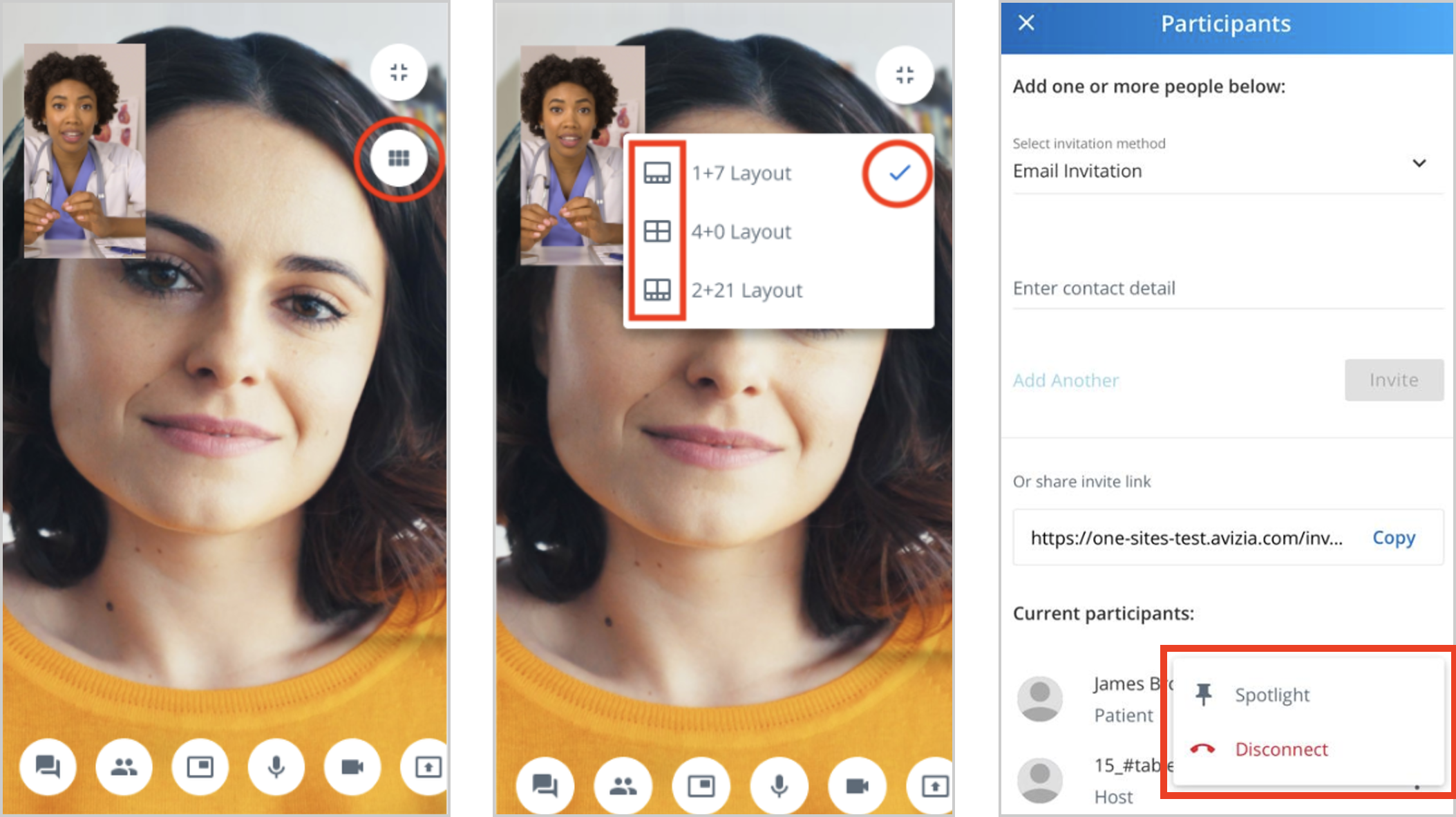 You can tap the Participants icon along the bottom to see the list of Current Participants and pin select up to two participants to Spotlight within the prominent video windows. A pin icon will appear against users who are pinned over their avatar placeholder on the list once they are pinned.
_________
TOUCHPOINT CONNECT: FILTER ENDPOINT BY FACILITY
You can now quickly filter for facility-associated endpoints when initiating a Connect call from Touchpoint. This helps accelerate connection to the endpoint and meet with your patients.
_________
TOUCHPOINT TABLET
_________
SUPPORT FOR ANDROID (SAMSUNG) TABLETS
In addition to Touchpoint Tablet on iPads, we now offer support for Android tablets — specifically Samsung Galaxy Tablet s6 & s7.
Native applications similar to Apple iPads, such as:

Guided Access – Forces application persistence and locks out all other applications which prevent the patient from roaming is NOT available on the Samsung tablet, nor is there an equivalent application. There is nothing we can do about this at this time
Screen Timeout – exists but only has 10 minutes for Samsung
Auto Answer – Application must be in the foreground

All of the differences between Apple and Android versions are articulated in the Touchpoint Tablet Quick Start Guide and User Guide on the Amwell Hospital support portal.
_________
REQUEST FOR SERVICES: STROKE INTAKE FORM
We have added the ability to enter Telestroke intake information in Touchpoint Tablet. In our previous update, we introduced the ability to enter patient intake data when enabled with the new "Request Services" for any pre-configured workflow (e.g. Pediatrics, Cardiology, Urgent Care Stroke, Behavioral Health, etc.).
Please speak with your Amwell Account Manager to enable this Enterprise Portal configuration for Touchpoint Tablet.
NOTE: Care Access Forms must also be enabled in the Enterprise Portal if you would like to have Touchpoint Tablet enabled to use intake forms. Only the Patient Intake and Stroke Intake forms are available at this time. We will be enabling other intake forms in the coming releases.
When enabled, you will see a new Request Care option at the start of your Touchpoint Tablet workflow. Select Request Care to create a new case.
You will see the service line workflow options that are configured and enabled in Enterprise. Select the appropriate service line.
If your setup in Enterprise has enabled intake forms for your Touchpoint Tablet, you will see the appropriate intake form for you to populate with the patient's demographic information and create a case. If intake forms are not enabled you will be placed in the Waiting Room.

Fill in the form as needed and Save. You will see a confirmation for your newly created case. Select "Got it" to acknowledge case creation.
NOTE: These fields are not required, and the form can be updated from your Clinical Portal and the Touchpoint mobile app.
Touchpoint Tablet will then place you in the Waiting Room for the assigned provider to initiate the call with your Touchpoint Tablet.

NOTE: You may select Cancel Case to terminate your current workflow. You will be asked to confirm your intent to Cancel Case, or you can select Continue Working to return to the Wating Room. Cases can also be canceled from your Clinical Portal and the Touchpoint mobile app; a popup will appear indicating your case has been canceled and you must acknowledge the notification to continue.
---