Mobile App
Version/Platform
Submit to App Stores
AW Touchpoint
(w/ Touchpoint Tablet)

v21.05 for iOS/Android

Tuesday, June 8, 2021
NOTABLE FEATURES/CHANGES:
Touchpoint Tablet: Updated main screen to show workflows when enabled
Ability to manually disable post-video call survey
Display Name now show in Guest invites
SMS check for mobile vs landline
Connection Strength Notifications now available across the Clinical platform
NOTE: You can view any maintenance and minor Touchpoint app update releases (e.g. v20.04.01) on the Amwell Hospital Web & Mobile Updates page.
---
TOUCHPOINT AND TOUCHPOINT TABLET
TOUCHPOINT TABLET: UPDATED MAIN SCREEN TO SHOW WORKFLOWS WHEN ENABLED
We have simplified the start page layout to adapt to the workflow configuration set for your Clinical Portal. The updated main screen pages will include:
Case Creation disabled: a simpler interface when the workflow is intended to use Touchpoint Tablet solely as a Carepoint — the device "is ready to receive a call" and there is no option to create a case.
Case Creation enabled: only the available workflows assigned to the device to initiate patient intake and begin a new case.

NOTE: Please speak with your Amwell Implementation Manager for assistance with this configuration.
_________
ABILITY TO MANUALLY DISABLE POST-VIDEO CALL SURVEY
Disabling the post-video call survey now translates to your invited guest participants using MOBILE DEVICE. Additionally, we have added an option to disable the post-video call success survey for Providers joining calls via Connect, Case, and Directory.
When either or both options are unchecked, invited guests (SMS/Email) and Providers will not be presented with the post-video call survey across the platform (web and mobile). If you have an external custom survey configured and enabled, the guest participants will see your custom survey.
NOTE: Please speak with your Amwell Implementation Manager for assistance with enabling/disabling the guest or Provider call survey, as well as any external survey you would like to establish.
_________
DISPLAY NAME NOW SHOWS IN GUEST INVITES
We have recently implemented the ability for users to establish a public "Display Name" when participating in a call. We have extended the display name to also be included within the invitation notification sent (SMS/Email), as well as the subsequent linked pages when joining the call.
_________
SMS CHECK FOR MOBILE VS. LANDLINE
We have integrated the ability, for Providers inviting a participant via SMS message, to see a note indicating whether that invited phone number is a mobile or landline.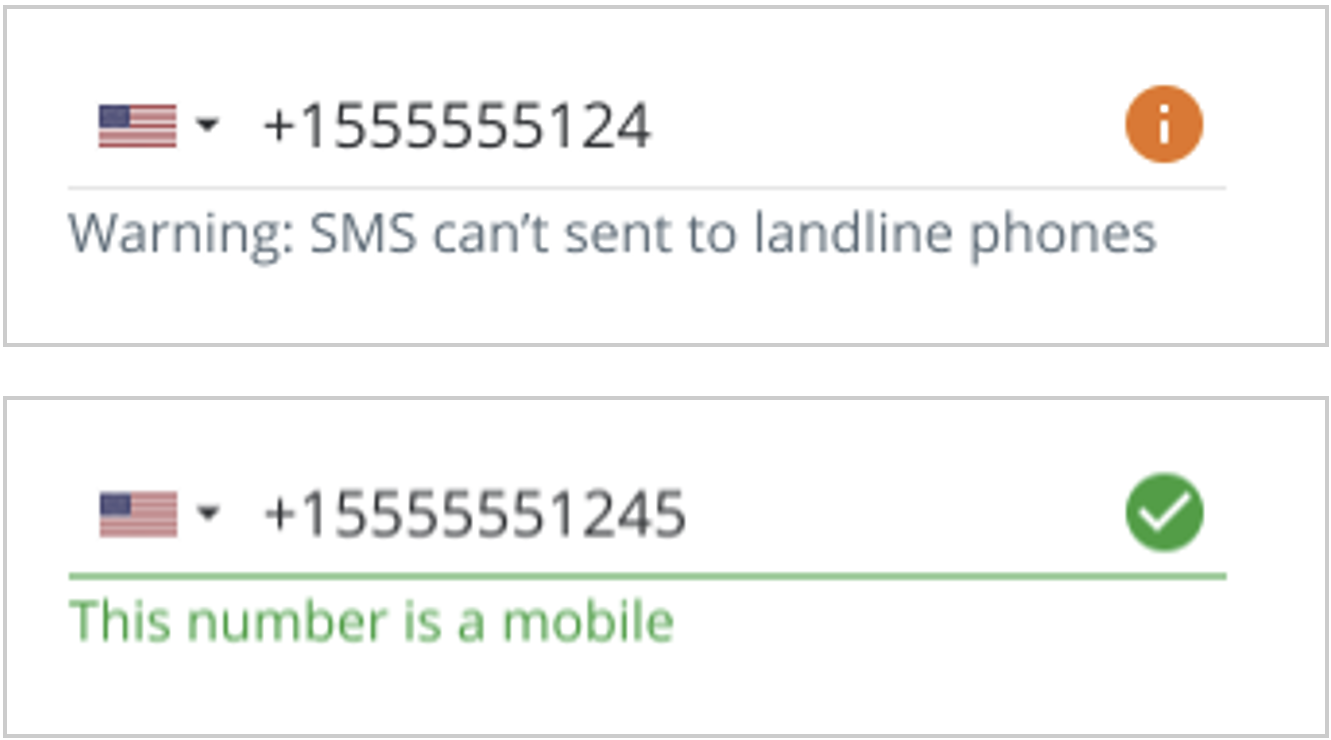 _________
COMING SOON

CONNECTION STRENGTH NOTIFICATIONS NOW AVAILABLE ACROSS THE CLINICAL PLATFORM
We recently have added color-coded Connection Strength Notifications for Touchpoint and Touchpoint Tablet users where participants can see their device's wireless signal strength and potential reliability when joining a video call. We will be extending the Connection Strength Notifications to participants also joining a call wirelessly from a computer browser or mobile browser (not Touchpoint).
There are three color-coded indicators that will help the video call participants be aware of the expected quality of the video call based on the available bandwidth detected on the device being used.

The three color-coded signal strength indicators provided are as follows:
Optimal: The GREEN "full strength" icon will indicate a good network connection.
Acceptable: The ORANGE "partial strength" icon will indicate acceptable signal strength. A pop-up will appear with a helpful tip to improve signal strength.
Low: The RED "low signal" icon will indicate that the network signal is too low for a video call. A pop-up will appear to suggest finding a stronger signal.
The call participant must acknowledge the notification, in the instances of Acceptable and Low signals, by tapping the [ X ].
---