Deployment date:

Thursday, January 27, 2022
OS v2.3.10 / App v3.0.1


Deployment window:

10-10:30PM ET
We will be releasing new OS and App updates for the C250, C500, and TV Kit 100 Carepoints on Thursday, January 27, 2022.
This Update Requires OS v2.3.8 or newer
This update requires that your Carepoint device is running OS v2.3.8 or newer. The previous OS update released on December 8th, 2021 is OS v2.3.8.
If your device is running an older OS, this update will simply not install — your device will continue to operate as it does today, however, the enhancement and issue resolutions will not take effect until the appropriate device OS update is applied.
_______________
Camera Disconnected alert on C500
The Camera Disconnected alert from Fleet Monitoring now supports C500 10x and 20x zoom versions. When the external camera on a C500 is disconnected, the Fleet alert will trigger if it is enabled in your alert configuration.
_______________
PTZ camera will move to privacy mode upon startup and camera connection
The PTZ camera on the C250, C500, and TV Kit 100 will move to the privacy position upon device boot up and upon camera connection. Previously this mode would only take affect after a call.
_______________
Wi-Fi roaming threshold
The C250 and C500 now allow you to configure the Wi-Fi roaming aggression threshold. Depending on the environment, one option may work better than the other. Consult your IT team to determine the optimal setting for your network configuration. Higher values (e.g. max, high) mean that the Wi-Fi adapter will trigger a roaming scan for another candidate access point (AP) when the signal strength with the current AP is still good. Lower values will trigger roaming scan when the signal strength with the current AP is very low.
Min -77 dB
Low -72 dB
Med -67 dB (default)
High -62 dB
Max -57 dB
To configure this setting, on the C250 or C500 device navigate to Settings/Connectivity/My Device and choose your desired setting and press Save.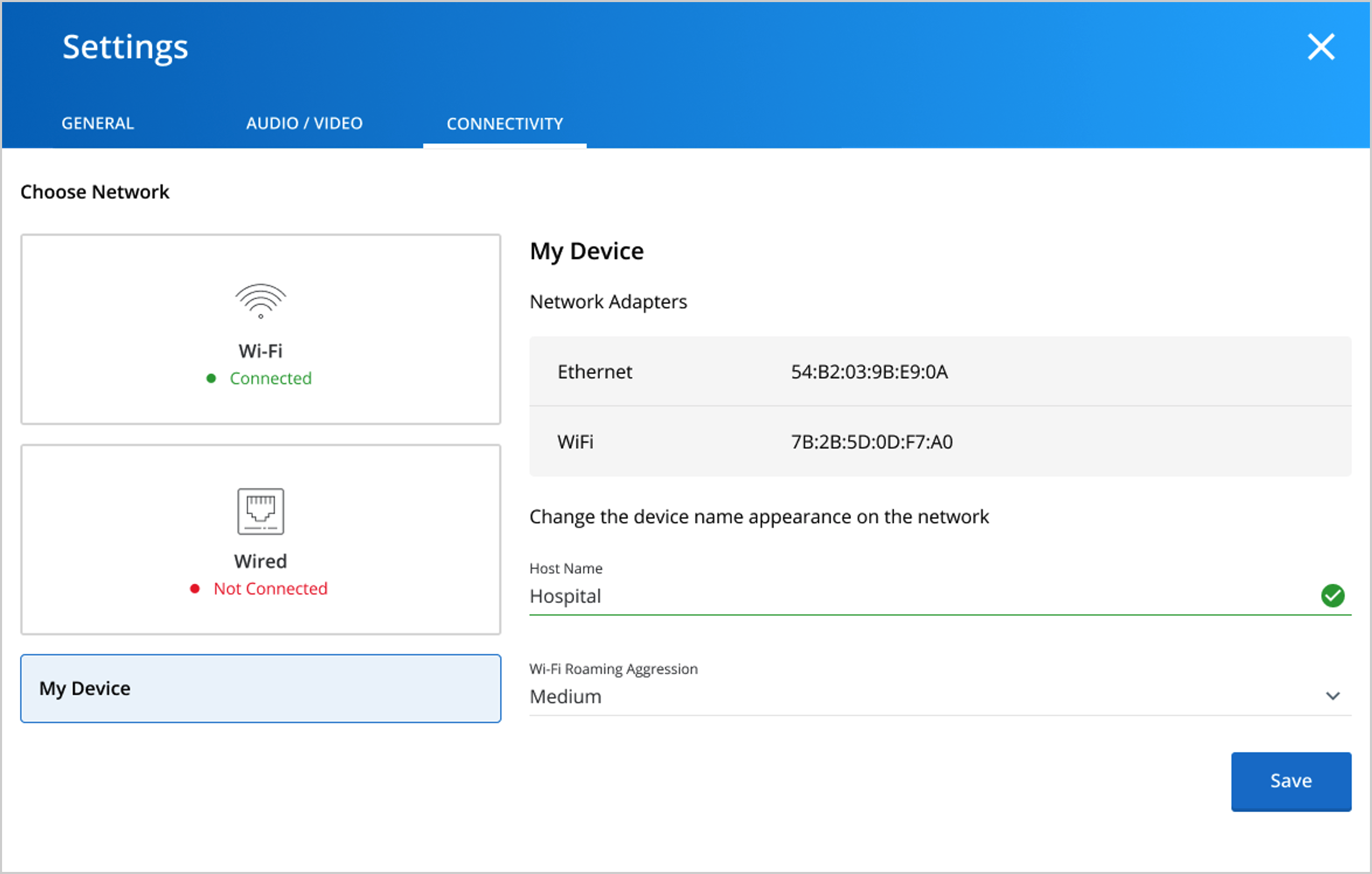 _______________
Issues resolved
C250 and C500 PTZ Camera Connectivity
Resolved some potential issues that could cause the external PTZ to become disconnected and unavailable for provider controls.
Issues with audio and video device availability when peripherals were connected or disconnected during a call
Resolved some issues related to connecting or disconnecting devices such as stethoscopes or external microphones during a call which could cause the audio and video input devices to switch inadvertently or stop transmitting.
---
Please review the instructions for updating at the bottom of this page to know whether you will have to manually download and install the updates, or if you are set up to automatically download and install the latest updates.
—

.
NOTE: You can view the Amwell Hospital Web & Mobile Updates page for a list of updates made across the Hospital platform (including bugfixes, hotfixes, etc.). You can also get a glimpse of notable new features and updates that are Coming Soon in the upcoming weeks and months. Both of these pages will require a one-time registration and login if you have not already registered for this site.

—
---
Updating your C250, C500, TV Kit 100
All updates on the C250, C500, and TV Kit 100 are managed remotely through the Amwell Fleet Monitoring portal. Updates can either be applied automatically, or you can choose to manually trigger updates on a per-device basis.
If your device's settings are set to 'Simple' (default) or 'Advanced - Auto-Reboot', then one or both of these items will download the update(s) automatically when it detects the availability of a new version of the application and/or OS. The 'Simple' setting will download the OS update file only and will wait for a manual reboot to install the OS update. 'Advance - Auto-Reboot' will download the OS update and initiate a reboot to automatically install the OS update.
If the device's settings are set to 'Advanced - Manual', then please review the following instructions to manually update your device.
Refer to your device's User Guide for more information on "Remote Device Management" for each of the system update options.
VERIFY OS AND APP VERSIONS
In the Fleet Monitoring Dashboard, select the endpoint device to be updated and you can find the Application Version and OS Version under 'Device Info'.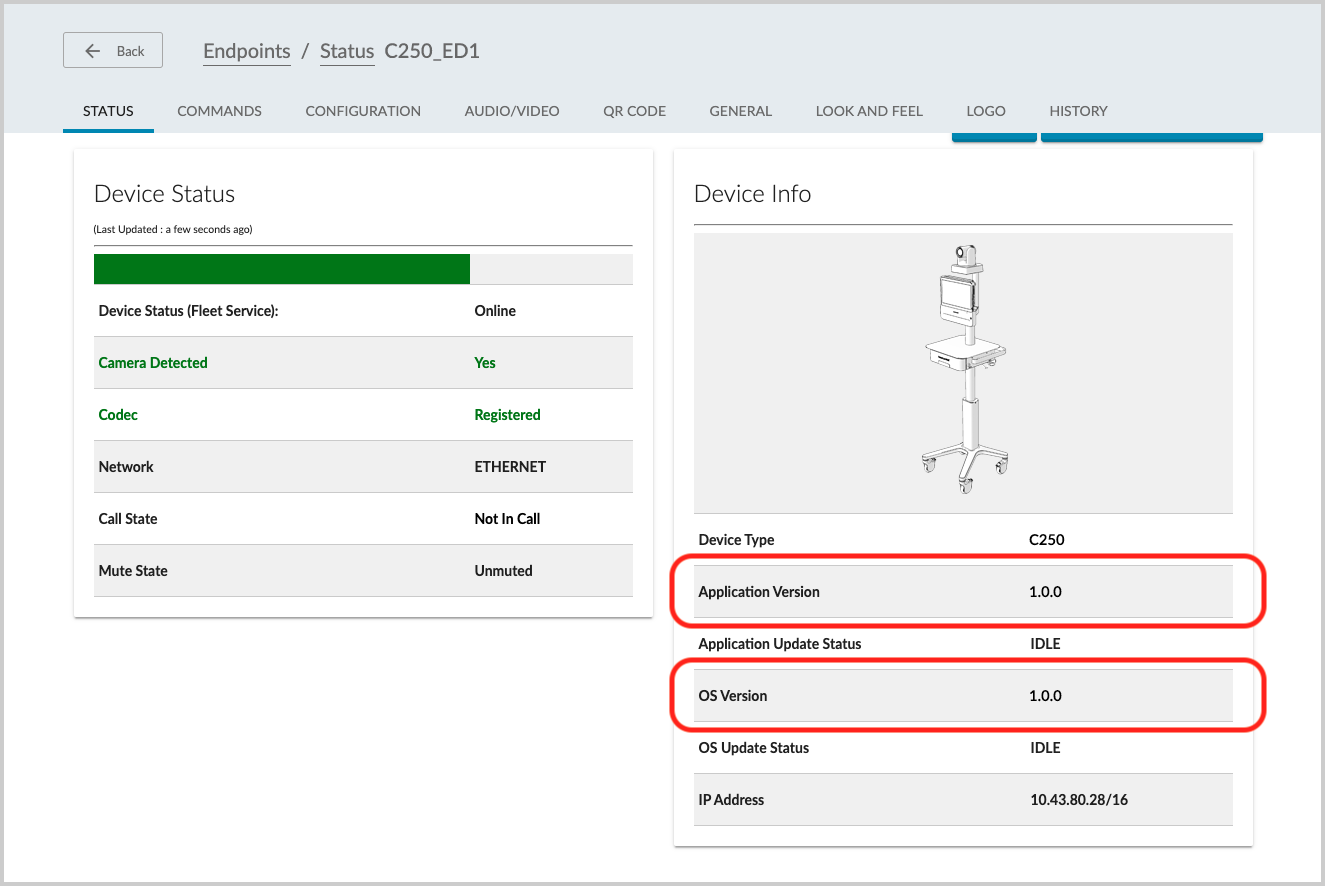 MANUALLY UPDATING THE APP AND OS
To update your device to the latest versions of the app and/or OS, navigate to the 'Commands' tab for your selected endpoint device and choose 'Push App Update' or 'Push OS Update.'
You must update each item one at a time.
NOTE: The OS update will require a system reboot.